Back to Publications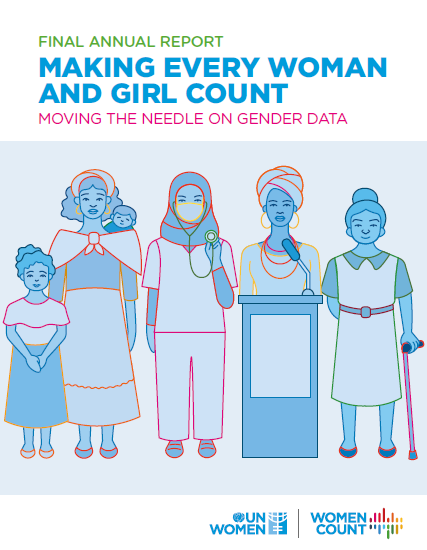 Final annual report: Making every woman and girl count
Download briefs
Global brief, Africa, Asia and the Pacific, Europe and Central Asia, Nepal, Kenya, Uganda, Tanzania, Bangladesh, Morocco, Colombia, Cameroon, Jordan, Senegal
Progress made on gender data
Since 2016, some progress has been made; however, bold action is needed to fill gender data gaps:
Phase I: A positive impact on gender data
Women's economic empowerment

Violence against women

Gender and the environment

COVID-19
Results dashboard
Global and regional projects
Country projects
Download results matrix
Global, Africa, Asia and the Pacific, Europe and Central Asia, Nepal, Kenya, Uganda, Tanzania, Bangladesh, Morocco, Colombia, Cameroon, Jordan, Senegal
Stories of progress from Africa
Looking ahead to Phase II
Phase II will be implemented from January 2022 – December 2025, across 6 regions and over 73 countries. Like Phase I, Phase II will contribute to driving results across the same three Outcome areas: i) creating an enabling environment, ii) increasing the production of gender data and iii) improving data accessibility and use. Building on Phase I, Phase II will put special emphasis on using gender data to inform policy and decision making to generate greater, positive policy impact for the lives of women and girls.
Phase II focuses on four key thematic areas: women's economic empowerment (including time use surveys and data on land ownership), violence against women, gender data on the environment and governance and participation. In these thematic areas, Women Count will focus on increasing access to modern technologies and administrative data systems and supporting multilevel data disaggregation and intersectional analysis.