Back to Stories
In Chile, data on women's paid and unpaid work prompt subsidy for working caregivers and inform upcoming national care policy
On 23 February in Santiago Chile, a health worker prepares a syringe filled with a dose of vaccine against COVID-19 during a campaign to vaccinate teachers. Photo: UNICEF/UN0429453/González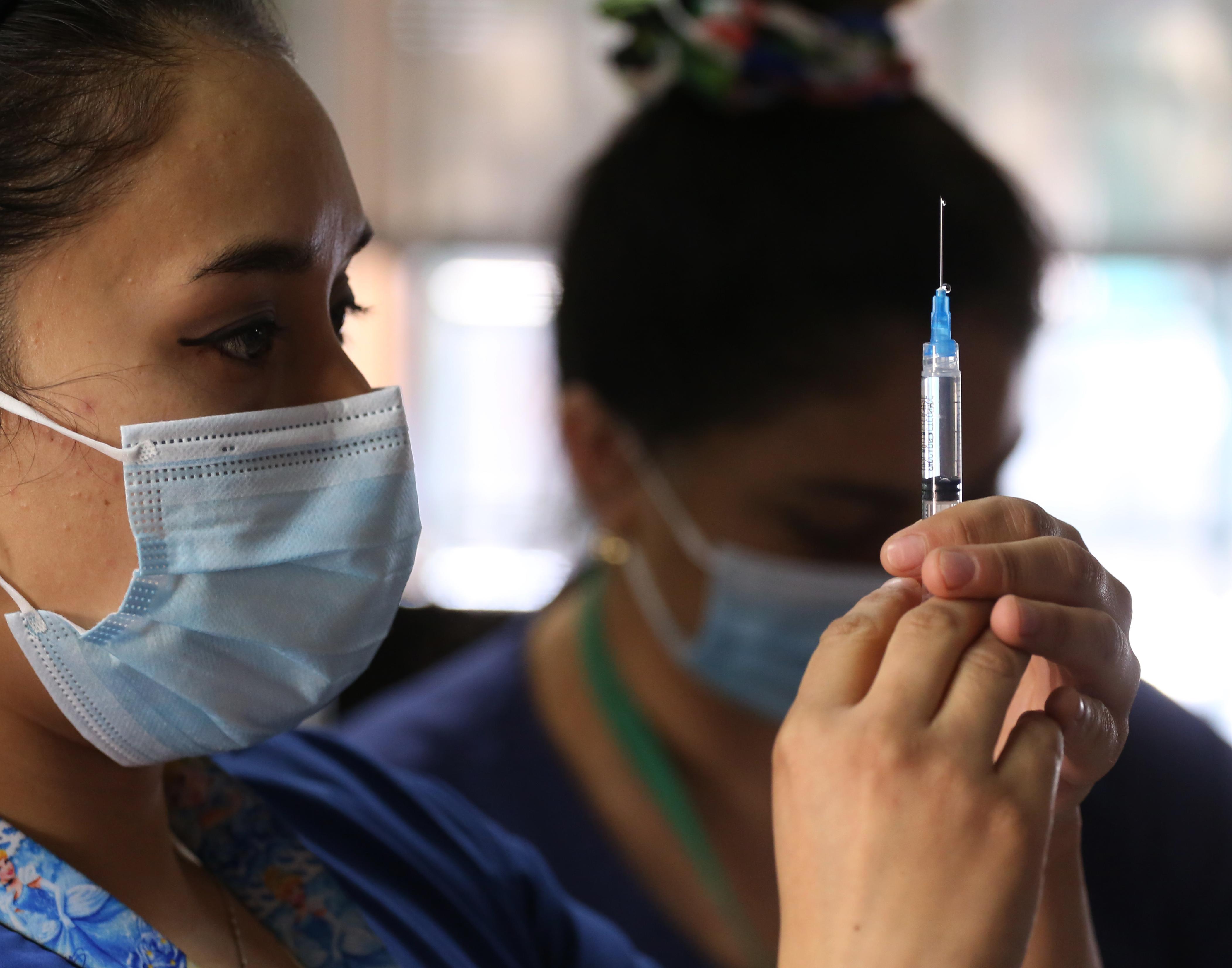 Chile's rapid gender assessment (RGA) on the impacts of COVID-19 has contributed to incorporating women's mental health in an existing health platform, the creation of a subsidy to support working caregivers to young children, as well as a new programme to support women entrepreneurs and boost women's digital skills.  
| | |
| --- | --- |
| | The survey was jointly designed and implemented by UN Women, Chile's Ministry of Women and Gender Equity (MWGE), and telecommunications partner ENTEL, via text messages from 15 September–4 October 2020, with 1,526 responses. Results were published in a report on the Ministry's website in October and later shared at a regional workshop. A comparative regional report including results from Colombia and Mexico was published in May. |
The survey was a great input for us," says Stefanía Doebbel, Head of the Department of International Relations for MWGE. "Basically, the survey is THE source we cite to support our advocacy and our work on public policies."
Her colleague Claudia González, from the Ministry's Research Division, adds that having fast, real and up-to-date information was fundamental, "especially in a context where we were allocating more and more resources that we hadn't contemplated. Being able to understand to what degree the crisis was impacting women helped us to effectively have an informed voice and be able to argue the need for a public policy (or not)."
One of the survey's key findings was that 77% of women reported experiencing psychological, mental or emotional impacts as a result of the pandemic, versus just 60% of men. Women aged 18–29 were those most affected, with 9 in 10 reporting such impacts.
Doebbel says the Government's existing mental health programme, entitled Saludable Mente (Healthy Mind), didn't have a gender perspective, but the RGA data prompted its incorporation.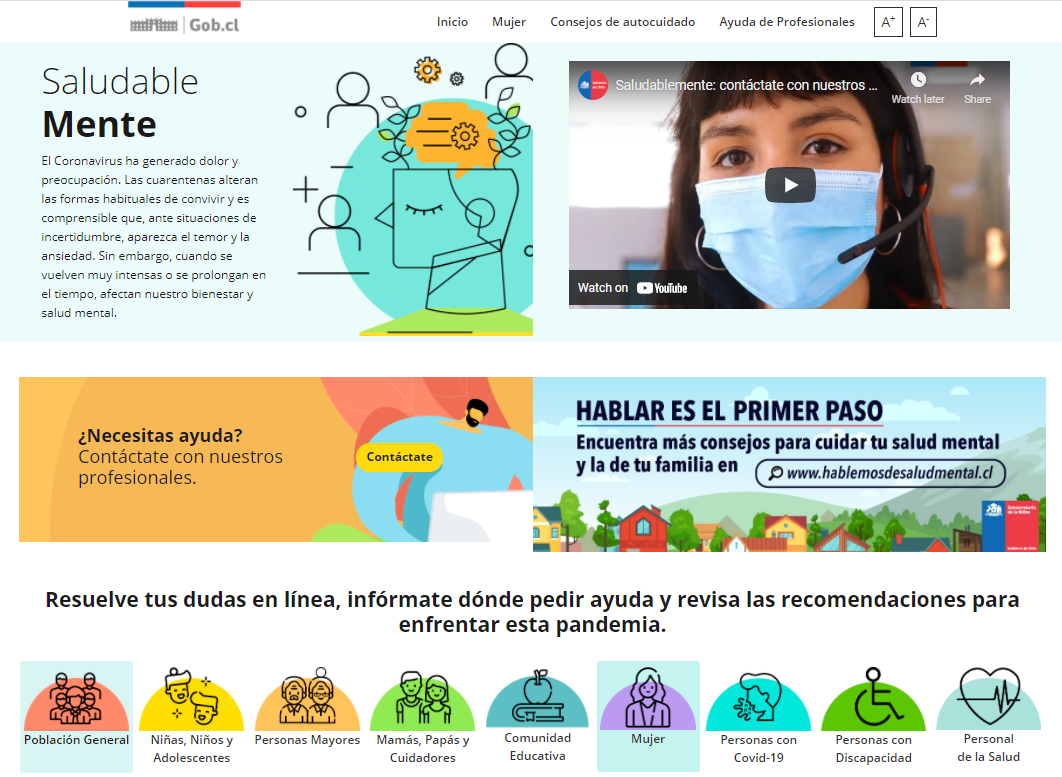 There is now a whole section for women on the website, which was expanded in February to include information on services for survivors of gender-based violence as well as advice on self-care, pregnancy and co-responsibility for care and domestic work. 
Another key finding was that both women and men were spending increased time on care and domestic work during the pandemic, but women were doing more. Time spent caring for children, cooking and cleaning increased for 54% of women versus only 38% of men. When it comes to time spent on self-care (defined as eating well, getting enough rest/sleep, exercise, etc.), most women reported decreased time (38%), while most men reported no change (47%) or increased time spent (30%). 
González says such data gave MWGE important insights and increased awareness. "Today, people will acknowledge the care crisis more easily than before, and having data has been key to communicating the magnitude of the crisis … Providing data that enables us to carry out various awareness-raising campaigns has also been fundamental."
The results emphasized the need to promote cultural change within households and gave impetus to the Step-by-Step Guide for household co-responsibility launched by MWGE in November of 2020, which promotes the equitable distribution of household responsibilities. 
The data are also being taken into account by a Working Group tasked with developing a national care policy, says UN Women's Gender Specialist in Chile, Maricel Sauterel: "The Ministry has used it to back their programmes and to justify the need for a care policy." 
The RGA also revealed that more men than women had increased the time they spend on watching movies, TV, playing videogames or listening to music, while more women than men had decreased time spent on such activities. 
"This was a very powerful data point," says González. Chile's last time-use survey was conducted in 2015. "Every time we mention it to civil society or other State actors, there's like a 'wow' moment. It creates a sense that there is indeed injustice and that something has to change, as soon as possible."
When it comes to economic impacts, women were more likely than men to report reduced income (51 versus 45%, respectively) and 1 in 3 women said they were having trouble making ends meet.
Such data have helped MWGE influence State monetary transfers. The Government had already implemented an employment subsidy that was supposed to benefit women, but  González says that women were using it less than men. She says monthly employment figures coupled with the RGA data led to the creation and launch in January of Protege (Protect), a subsidy to support working caregivers (women and men) for children aged 2 and under without access to an employer-based care facility. 
Sauterel says UN Women used RGA data on economic impacts and women's Internet use to design a United Nations project that will be led by UN Women Chile and implemented in partnership with the International Labour Organization (ILO), the Economic Commission for Latin America and the Caribbean (ECLAC), the Food and Agriculture Organization (FAO), as well as the ministries of women and of labour. It will support 4,000 young women who've lost their income by empowering them with digital skills. RGA data was cited throughout the application for funding from the Multi-Partner Trust Fund for the Recovery and Response to COVID-19, and the project was granted approximately USD $900,000 in funding in December 2020. 
---
UN Women's global Women Count programme provided proposed RGA questions that were adapted to the national context by the Research Division of MWGE and UN Women's regional and country staff, who also analysed the results. 
About the author: Jen Ross is a freelance writer and editor with more than 10 years of UN experience, including with UN-ECLAC, OHCHR and UN Women.