Back to Stories
Q&A: Gender data to drive several firsts for Kenya this year
Women join a demonstration against gender-based violence in Kenya. Photo by: Say NO - UNiTE / CC BY-NC-ND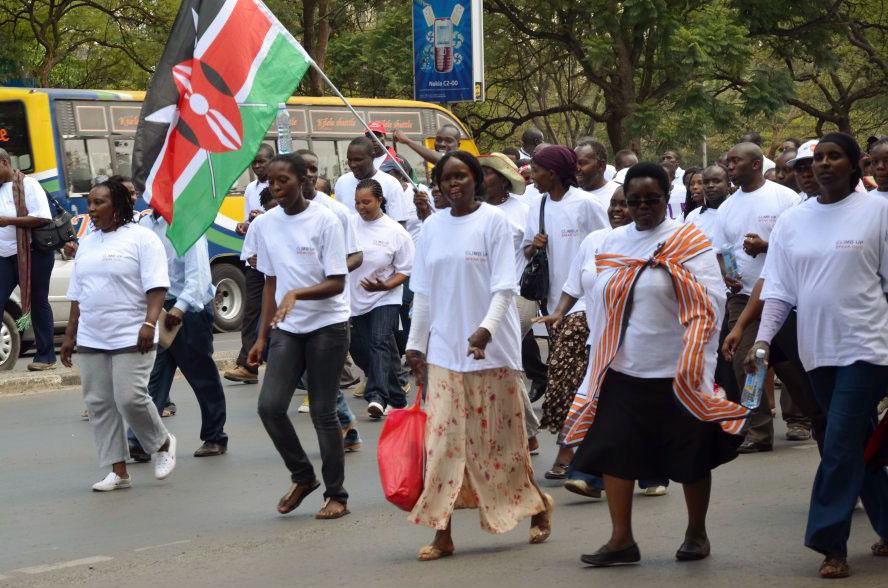 MISSOULA, Mont. — Gender data will drive a number of firsts for Kenya in 2020. Right now, the Kenya National Bureau of Statistics is training enumerators to carry out the country's first time use survey, with the help of UN Women's Women Count program and other partners.
Time use statistics are quantitative summaries of how individuals allocate their time over a specified period and can shed light on how much time women spend on unpaid care work. Once completed, it will mean Kenya is no longer the only country in the East African region that hasn't conducted one, according to Maureen Gitonga, gender statistics program specialist at UN Women.
The country and its partners aren't stopping there. By doing further analysis of existing household surveys, UN Women, together with UNICEF and KNBS, have been able to derive poverty profiles for women at both the national and county level.
"In essence, for the first time in Kenya, we should be able to know where poor women are," Gitonga said. The partners have also been analyzing Kenya's most recent demographic health survey to develop a women empowerment index "so that when you say 'Maureen is empowered in Kenya,' we know what indicators you are looking at," Gitonga explained.
Devex caught up with Gitonga to find out what lessons can be learned from Kenya's dedication to gender data, and what else can be expected from the country's efforts this year.
This conversation has been edited for length and clarity.
How do you ensure that governments at the county level in Kenya can collect and manage the data they need to create gender-responsive policies? Are there recent examples of this?
Last year for the first time we were able to develop county gender data sheets that could show select counties: what are the critical gender dimensions across sectors? So that's important because 2020 [is] the year when we do the midterm review of our national development plans and county development plans.
With this type of data, they should be able to reorganize their plans, their policies, and their resources around the gender issues that were identified within the county gender datasheets.
I think that's critical. And then secondly, we are currently developing poverty profiles for all the 47 county governments. This is going to also be very important in demonstrating where poor women are, and where we should invest more resources across sectors.
You mentioned you've been conducting further analysis of existing surveys. What information are you able to glean from doing this, and how do you hope it informs policy in Kenya?
So I'll just give two examples. First, the "Kenya Integrated Household Budget Survey," which was done in the 2015-2016 fiscal year. And this is what we are analyzing to generate poverty profiles, taking a multidimensional approach to look at a number of indicators that then define how children, women, and elderly people are deprived.
This becomes critical information, especially because of our Vision 2030, which is implemented in medium-term, five-year plans. The five-year plan has three critical pillars: An economic pillar, a social pillar, and a political pillar. The social and economic pillars become very important pillars to drive growth for our country. And the poverty profiles then demonstrate where the poor people are, and what interventions they require.
The second piece that we are undertaking further analysis on is a Kenya demographic health survey. This is the one we have used to derive the women empowerment index.
Read the rest of the article on Devex.
---
This article was originally published on Devex. UN Women is partnering with Devex to explore how data is being used to inform policy and advocacy to advance gender equality. Gender data is crucial to make every woman and girl count. Visit the Focus on: Gender Data page for more. Disclaimer: the views in this article do not necessarily represent the views of UN Women.