Back to Stories
The COVID-19 pandemic has increased the care burden, but by how much?
Photo: UN Women Europe and Central Asia/Rena Effendi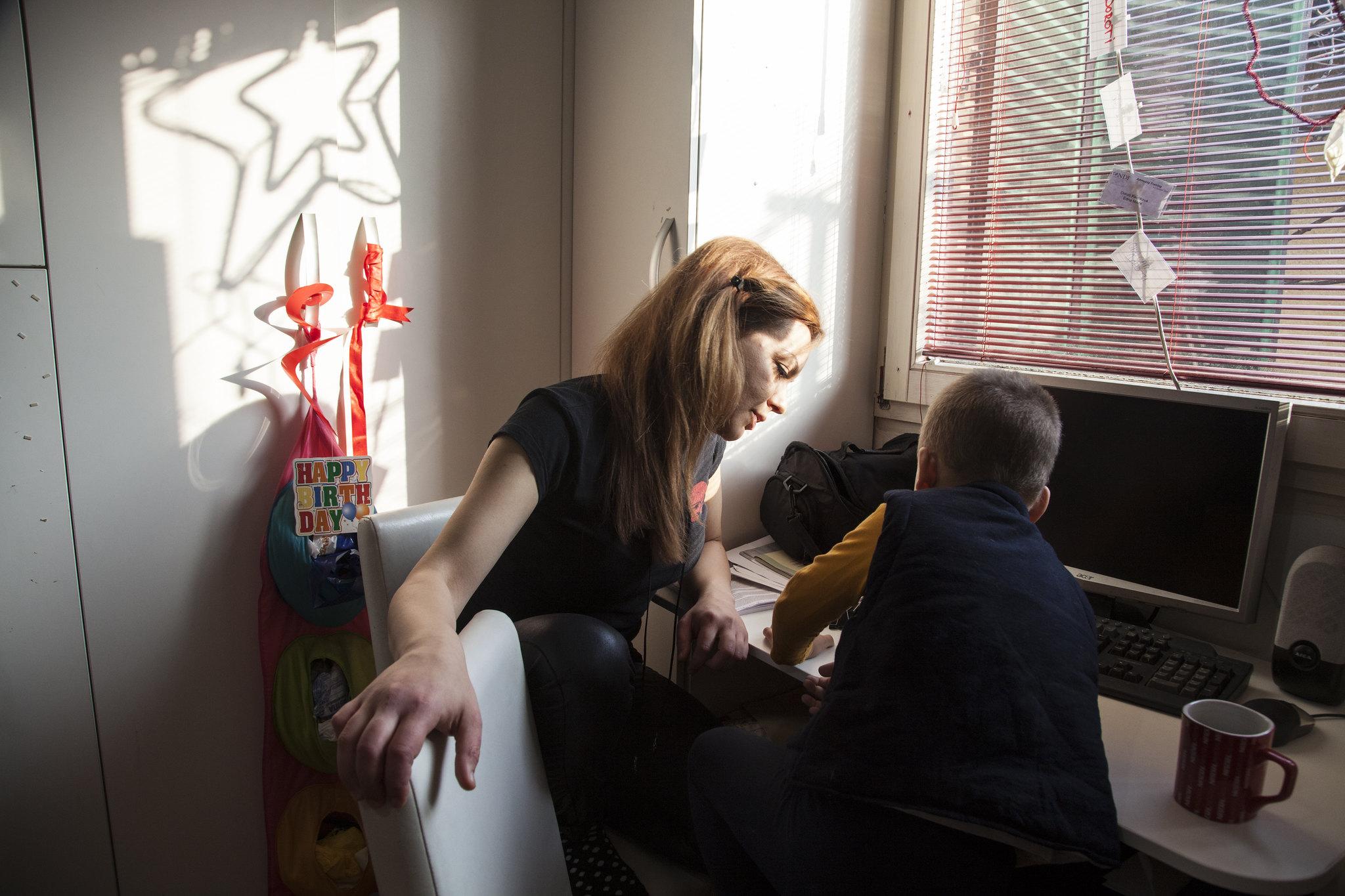 In a follow-up to a 18-country study released earlier this year that showed COVID-19 is intensifying women's workloads at home, a new Ipsos poll finds that nearly half of all women with children at home say they spend more than 5 hours each day in childcare. 
In collaboration with UN Women, Ipsos asked women and men in 16 countries how much time they spend on childcare in a typical day, both before the pandemic and since. The answers to these questions quantify what more than 40 rapid gender assessments conducted by UN Women have revealed: both women and men are now spending more time caring for children, including teaching and overseeing remote learning, but women are doing a disproportionate share. 
Before COVID-19, women reported spending around 26 hours per week on childcare – already a substantial amount of time – but this has increased to 31 hours since the onset of the pandemic. On the other hand, men said they spent around 20 hours per week on childcare before COVID-19, which has risen to 24 hours per week. While, on average, the percentage of women's time spent on childcare increased by nearly the same amount as men's (20% versus 18%), this translates into an increase of 5.2 additional hours per week for women compared to 3.5 for men. 
This gender gap varies widely by country, with the largest discrepancies in Mexico and South Africa and the smallest in Italy and India.
Estimated increase in weekly hours on childcare during COVID-19, by sex
Source: Ipsos poll fielded 22-25 October 2020.
Note: The sample size for the poll is 14,509 individuals aged 16 to 74 from 16 countries: Australia, Brazil, Canada, China, France, Germany, India, Italy, Japan, Mexico, Russia, South Africa, South Korea, Spain, United Kingdom. The age group for Canada and USA was 18 to 74 years. Childcare responsibilities were proxied by specific tasks and activities such as physical care of children, overseeing them and teaching and remote learning. The hours per week spent in childcare prior to the pandemic and during COVID-19 was collected using a seven-point scale: 0 hours per day; 1-2 hours per day; 3-4 hours per day; 5-6 hours per day; 7-8 hours per day; 9 hours or more per day and not applicable. The data presented in the figure are only for women and men who reported spending any time in childcare – a sub-sample of 8,000 individuals.
For nearly two-thirds of women respondents (65%), childcare activities comprised four hours or less of their time each day prior to the pandemic. When asked about time spent since the crisis, this number dropped to 54%, while 46% of women said they are now spending five hours or more on childcare each day. Additionally, nearly 17% of women said they now take care of children full-time (spending nine hours or more per day on childcare activities), an increase of 6 percentage points when compared to before the crisis. In contrast, only 6% of men reported spending nine or more hours per day on childcare (compared to 4% before the pandemic).  
Women who have at least one child below the age of 6 are seeing the largest increases in childcare since the onset of COVID-19. Prior to the crisis, 24% of those with at a child under 6 reported spending nine or more hours on childcare per day, but this proportion has now risen to 36%, translating into an average increase of 7 extra hours per week for these women. These data signal what is being confirmed by the emerging labour market data: more women are foregoing paid work to shoulder larger unpaid care responsibilities as a result of the pandemic.
Proportion that reported spending 9 or more hours per day on childcare, before and during the pandemic, among women and men with at least one child below the age of 6
Source: Ipsos poll fielded 22-25 October 2020.
Note: The data presented in the figure are only for women and men who live in households with children, where at least one child is below the age of six, a sub-sample of 1,748 individuals.
Socioeconomic status also has a substantial impact on childcare: among women from low-income households, 39% said they spent an average of five hours or more on childcare per day before the pandemic (compared to 34% of women in high-income households). But when asked about hours spent on childcare since the pandemic began, 43% of women in low-income households reported spending five hours or more, compared to 50% among those in high-income households. This reversal – women in high-income households spending more time on childcare than women in low-income households – may point to differences in flexibility and quality of paid work. Whereas women in high-income households may be doing both paid and unpaid work simultaneously from home, women in low-income households are more likely to have jobs with fewer options for work from home. 
As more evidence is gathered, we gain new insights into how this pandemic is transforming people's lives, in this case amplifying already existing gender discrepancies at home. As parents around the world scramble to provide care and take on new and larger domestic responsibilities, both governments and businesses face a growing crisis. 
By now, it has become abundantly clear: the care sector, which sustains our families and communities, can no longer be undervalued and ignored. 
Policy action is vital. UN Women's report recently argued for the expansion of paid family and sick leave and inclusive social protection for unpaid caregivers. In countries such as Costa Rica, Germany, Italy, and Argentina where policies such as paid reduction in work time and childcare allowance have been implemented parents may see some relief. However, for most parents around the world, and mothers in particular, deep seeded gender inequality at home remains unaddressed.
---
Ginette Azcona is a Research and Data Policy Specialist at UN Women. She manages the data and statistics for UN Women's flagship reports. Before joining UN Women in 2010, she was part of the research and writing team for UNDP's Human Development Report Office. Ginette has authored numerous publications on human development, human rights, social justice and gender and development data and is UN Women's leading focal point on gender, data and the SDGs.  
Antra Bhatt is a Statistics Specialist with UN Women's Research and Data Team. Prior to joining UN Women, she was a researcher at Tata Institute of Social Sciences, Mumbai, India. She holds a PhD in International Development from the University of Rome –'Tor Vergata', Italy and a Master's degree in Public Policy from the University of Chicago Harris School of Public Policy.
Kaitlin Love is an international development researcher and consultant with 10 years of experience leading projects across the globe. She focuses on applying rigorous qualitative and quantitative methodologies to emerging and fragile contexts, and is a subject-matter expertise in women's empowerment, sustainable development, and refugees/humanitarian aid.