Back to News
Data producers, users and partners discuss how to navigate the politics of open data
New York
Panelists at the HLPF side event at UN Women on Navigating the Politics of Open Data. Photo: Erik Fuller.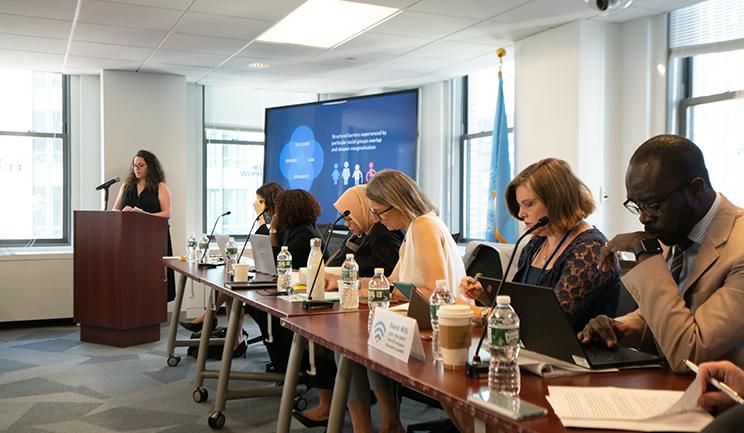 On 15 July, UN Women hosted a multi-stakeholder dialogue on Navigating the politics of open data: Learning from producers, users and partners, at the margins of the United Nations High-level Political Forum on Sustainable Development (HLPF). The event was convened by the Individual Deprivation Measure Program, Open Data Watch and UN Women, and with assistance from the Global Partnership for Sustainable Development Data. 
The SDGs are driving an increased focus on measurement. Yet, what is measured and not measured reflects particular development priorities, which leads to greater visibility and attention to some issues over others.
The demand for disaggregated data is growing, as it is vital to understand how progress towards the SDGs translates into better outcomes for all, and ensures that we leave no one behind. However, new approaches and insights in measurement can create uncertainties for stakeholders.
This dialogue brought together individuals playing key roles within government, multilateral organisations and civil society to share approaches, issues and opportunities based on their experience and expertise.
The speakers and panelists included: 
Shaida Badiee Managing Director, Open Data Watch
Omar Seidu Principal Statistician, Ghana Statistical Service 
Francesca Perucci Chief of the Statistical Services Branch, UN Statistics Division
Papa Seck Chief Statistician, UN Women
Dr. Diani Sadia Wati Special Adviser to the Minister on Institutional Relations, Ministry of National Development Planning, Indonesia (see presentation)
Rachael Beavan Data Revolution Lead. Data for Development Team. Department for International Development, United Kingdom
Brigida Soares Planning, Monitoring and Evaluation Coordinator, Office of the Prime Minister of Timor-Leste (see presentation)
Lorant Czaran, Senior Technical Advisor, GRID3, United Nations Population Fund (UNFPA)
Joanna Pradela Director, Individual Deprivation Measure team at International Women's Development Agency (see presentation)
Moderated by Jenna Slotin, Senior Director for Policy and Strategy, Global Partnership for Sustainable Development Data
View the outcome document.