Back to Publications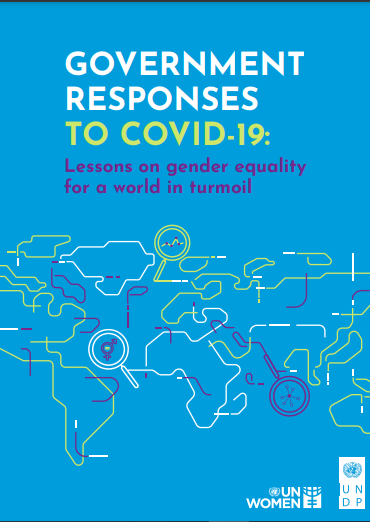 Government responses to COVID-19: Lessons on gender equality for a world in turmoil
overlapping impacts of the COVID-19 pandemic, accelerating climate disasters, and geopolitical conflict are a threat to gender equality and women's rights across the globe. This report from UN Women and UNDP shows what governments can do now to prevent further rollbacks and recover lost ground, while enhancing resilience and preparedness for future shocks.
Drawing on a unique global dataset of close to 5,000 measures adopted by 226 countries and territories in response to COVID-19, the report finds that, overall, government responses paid insufficient attention to gender dynamics. At the same time, instances of innovation and learning hold important lessons for gender-responsive policymaking in times of crisis.
For the first time, the report provides analysis on the factors that led to a strong gender response, generating key lessons for governments:
In a context of growing threats to democratic and open societies, strong institutions proved critical for an inclusive gender response.
Feminist movements and women's rights organizations provided an early warning system on the gender impacts of the pandemic, particularly on violence against women and girls.
Women's representation and leadership in executive positions, parliaments, and public administration was critical for translating feminist advocacy into policy action.
Countries with robust public services and gender-responsive social protection systems were in a better position to respond, while others had to improvise, under pressure, and with varying degrees of success.
Digital tools sustained feminist activism online and enabled policy innovations and rapid support roll-out, reaching groups of women often left behind in "normal times".
Real-time gender data on the impact of the pandemic on women and girls was critical to making the case for gender-sensitive response measures, as was tracking what worked in government responses.