Back to News
Women spend five times more time on unpaid care work than men, Georgia's first time-use survey finds
Georgia
UN Women and the National Statistics Office of Georgia presented the main results of the first ever time use survey in Georgia. Photo: The National Statistics Office of Georgia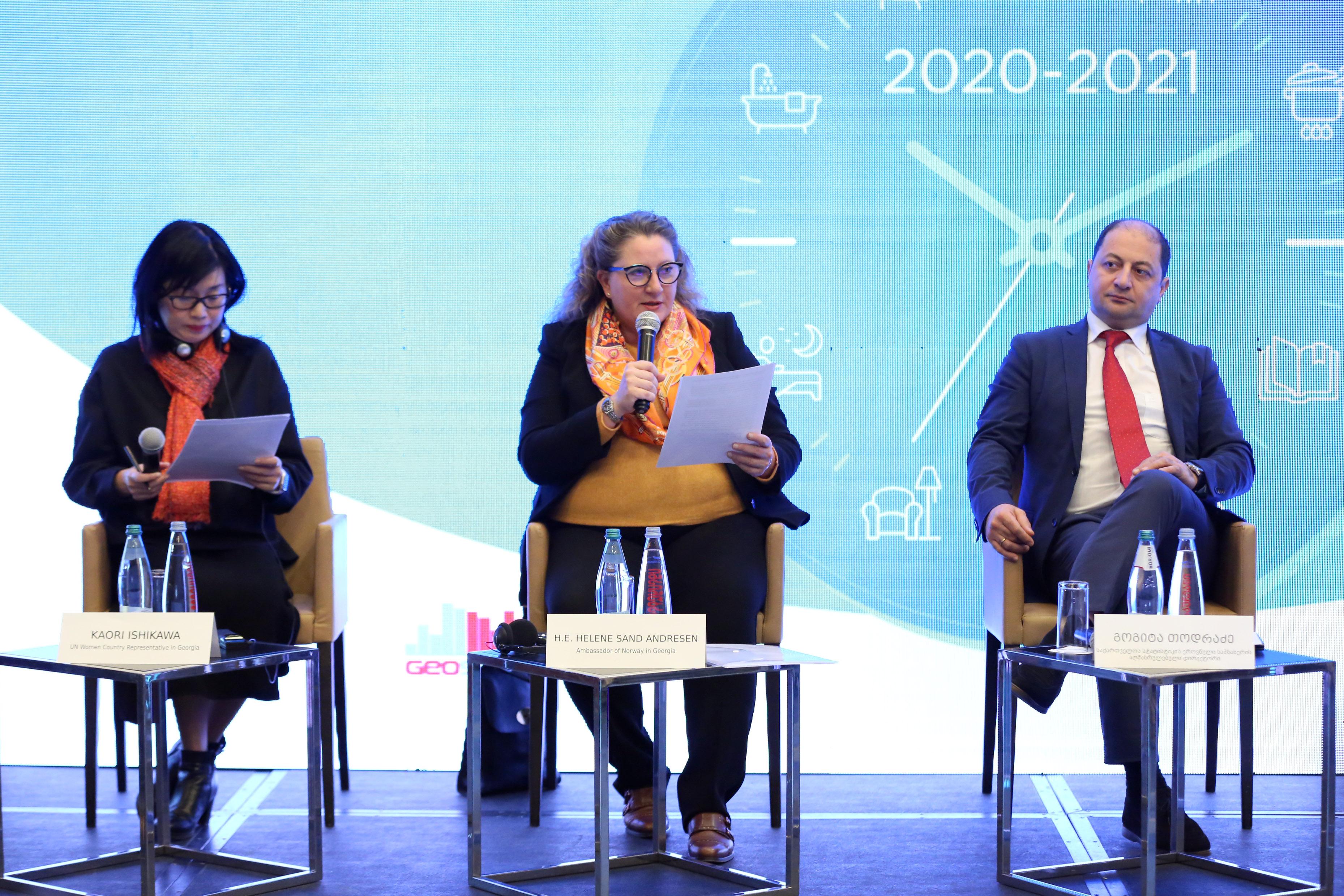 From domestic chores to caring for loved ones, around the world people collectively spend 16 billion hours on unpaid care work every day. This invisible and unrecognized work falls largely to women, who spend three times as much time on unpaid work as men worldwide. This leaves them less time to pursue paid work or professional and personal development opportunities.
The movement to recognize and value unpaid care work, which is shouldered almost exclusively by women, has been bolstered by time-use surveys. These surveys measure the contribution of women's unpaid work to national well-being and reveal gender inequalities in the amount of time women and men spend on paid and unpaid work. In recent decades, over 250 have been conducted in more than 80 countries, but never in Georgia. 
That is, until UN Women and the National Statistics Office of Georgia (Geostat) filled this critical data gap by designing, collecting and publishing the results of Georgia's first time-use survey in December 2022.
The survey found that the overall proportion of time spent by women on unpaid domestic and care work was 17.8%, around five times the time spent by men (3.7%) – far more than the global average gender gap (of three times more).
Time poverty and the disproportionate burden of unpaid care work has negative social and economic consequences for women – nearly 50% of women in Georgia cited unpaid care work as the main reason for not working. The survey results reveal that 66% of Georgia's population engages in unpaid domestic work, albeit with women (88.3%) and men (39.6%) participating at starkly different rates.
Previous research had revealed that household chores are highly segregated by gender in Georgia, with most tasks performed by women. For example, 94% of women report that they usually or always do the washing and 70% report that they are responsible for most of the childcare. Having young children also significantly reduces women's likelihood of engaging in paid work. The Georgia Time-Use Survey found that mothers spend 20.4 hours per week on childcare, on average, while fathers spend only 3.9 hours. Even mothers who are employed full-time, spend four times as much time on childcare as their male counterparts. 
The available time-use data will fill the existing gaps to monitor and report on progress towards Sustainable Development Goal target 5.4. It will also provide policymakers with critical data to help them adjust or develop policies to close this gender gap. 
"The key objective of the Georgian Time-Use Survey was to generate internationally comparable time-use data to monitor, and report on, the volume of unpaid domestic and care work in Georgia," said Gogita Todradze, Geostat's Executive Director.
Kaori Ishikawa, UN Women Country Representative in Georgia, added: "We hope that the data obtained from the survey will influence government policies to reduce the disproportionate share of unpaid care work performed by women and girls, and to distribute care responsibilities equitably between women and men in households, communities and workplaces."  
The time-use survey was conducted under UN Women's flagship programme "Making Every Woman and Girl Count", in close collaboration with the "Good Governance for Gender Equality" project in Georgia, funded by the Norwegian Ministry of Foreign Affairs.