Back to News
Gender data challenges to SDG monitoring: What have we learned?
Tokyo
Panel of experts at UN Women's side event at the 7th Global Forum on Gender Statistics. UN Women/Sara Duerto Valero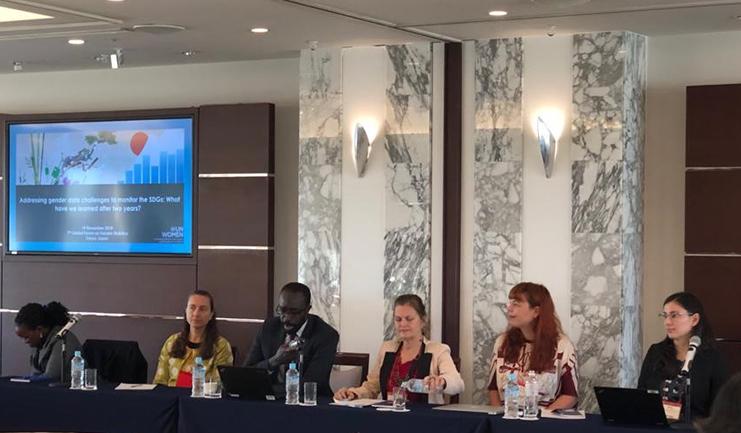 Without quality gender data, there is no credible path for achieving the Sustainable Development Goals for women and girls. At the 7th Global Forum on Gender Statistics in Tokyo, UN Women held a side event on 'Addressing gender data challenges to monitor the SDGs: What have we learned after two years?' The event was held on 15 November and was aimed at sharing experiences and reviewing lessons learned on improving data and evidence for gender equality, in the context of the Sustainable Development Goals. The panelists included:
Papa Seck, UN Women
Diana Byanjeru, Uganda Bureau of Statistics
Henriette Jansen, UNFPA
Keiko Valente, Bill and Melinda Gates Foundation
Kylie Fisk and Helen Suich, the Individual Deprivation Measure, International Women's Development Agency (IWDA)
The panelists discussed important initiatives that support the production and use of quality gender statistics, including UN Women's Flagship Programme "Making Every Woman and Girl Count", and highlighted key challenges encountered across many countries, including technical challenges for the production of time use and violence statistics, the lack of coordination within national statistical systems, the lack of national capacity in many contexts, and the need to explore alternative data sources and re-process existing data. The collaboration between data producers and users was seen as a critical solution to these challenges and a tool to enhance the production and use of gender statistics. Consultative design of statistical strategies, in line with the processes carried out in Uganda for instance, were highlighted as essential first steps. Disaggregating data by multiple dimensions, beyond just sex, would examine multiple levels of deprivation and help fulfill the promise of leaving no one behind.
Data scarcity was also identified as a challenge. Panelists raised concerns about the sensitivity around collecting violence data and discussed proposals to ensure the safety of respondents. For this and other technically challenging areas of gender statistics, the publication of professional pools of experts were proposed as potential tools to enhance data availability. Finally, donors also recognized the importance of investing in gender statistics and highlighted substantial gains made as a result of these investments, including achievements in the area of sex-disaggregated global financial inclusion data, plot-level sex-disaggregated land use data, and harmonization of large survey programmes, including labour force surveys. Continued support to the gender statistics portfolio is essential, but must be coupled with coordination among donors as well as among all development partners working towards promoting the availability, quality and use of gender statistics.
The United Nations Statistics Division (UNSD), in collaboration with the Ministry of Internal Affairs and Communications of the Government of Japan organized the 7th Global Forum on Gender Statistics. The Forum brought together producers and users of gender statistics from national and international statistical offices, other government agencies, international organizations, academia, civil society and the donor community. It was an opportunity to discuss ways to improve data and evidence for gender policies, in the context of the 2030 Sustainable Development Agenda.