Launched by Colombia's Vice-President in late 2020, with strong reception from media and decision-makers, Women and Men: Gender gaps in Colombia, has quickly become a flagship publication. Co-produced by UN Women Colombia's Women Count project, the National Administrative Department of Statistics (DANE) and the Presidential Council for Women's Equity (CPEM), it includes a strategic selection of indicators and analysis on the current situation of Colombian women and men.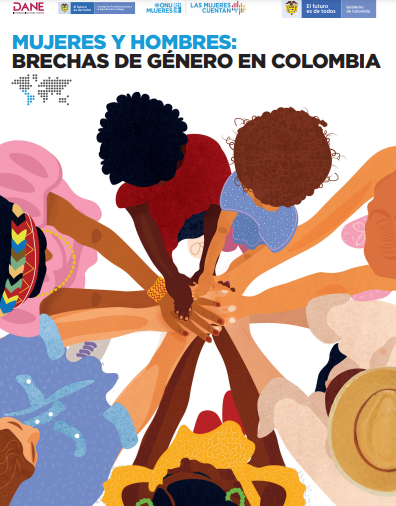 "We wanted to consolidate different dimensions of analysis in a single document under a gender perspective with an intersectional approach, covering afro and indigenous women, single mothers, the regions, etc.," explains Women Count Colombia Programme Coordinator Rolando Crespo.
The publication reveals that female labour force participation reached 53.1% in 2019, well below the rate for men (73.9%). But with COVID-19, women's participation fell to 43.9%. Although men's participation also fell (to 66.2%), it was by fewer percentage points (7.2, versus 9 for women). Meanwhile, Colombian women are still shouldering the lion's share of unpaid care and domestic work (8 out of 10 hours).
It also presents gender statistics disaggregated by age, location, ethnic self-identification, income and educational level, among others – to the extent that available data allow, as a first step towards a national analysis of intersecting inequalities.
Some of the more surprising gaps were that the life expectancy for a woman born in the Amazonian department of Vaupés is 15 years lower than a woman born in the city of Bogotá. Women's economic participation rates vary, from 31.1% on average in Choco to 62.7% in Bogotá. And child marriage rates are higher among certain ethnic groups – 11% for indigenous girls, 11% for Roma girls and 8% for black or mixed afrodescendent girls (versus a national average of 6.6%).
"We included issues related to disability and ethnic self-identification, insofar as we were able to generate this disaggregation," says Karen García Rojas, advisor and coordinator of DANE's Differential and Intersectional Focus Group (GEDI). "It includes affirmative language and a recognition of human rights, which is essential for a transformative perspective towards equality. … it is a framing tool and an excellent starting point for more intensive use."
García Rojas explains that the production team took advantage of a tool for free access to the 2018 Census data and points out that the support, learning and continuous feedback from UN Women were essential.